ISSR 2023-2024 school admission now open!

Summer Programme
Register now for 2023 and receive a 5% discount until the end of May.


Splash Day
We are excited to announce Splash Day on Friday 26th May. This is a great opportunity for students from Reception 2 class to Year 6 to enjoy a day at the swimming pool.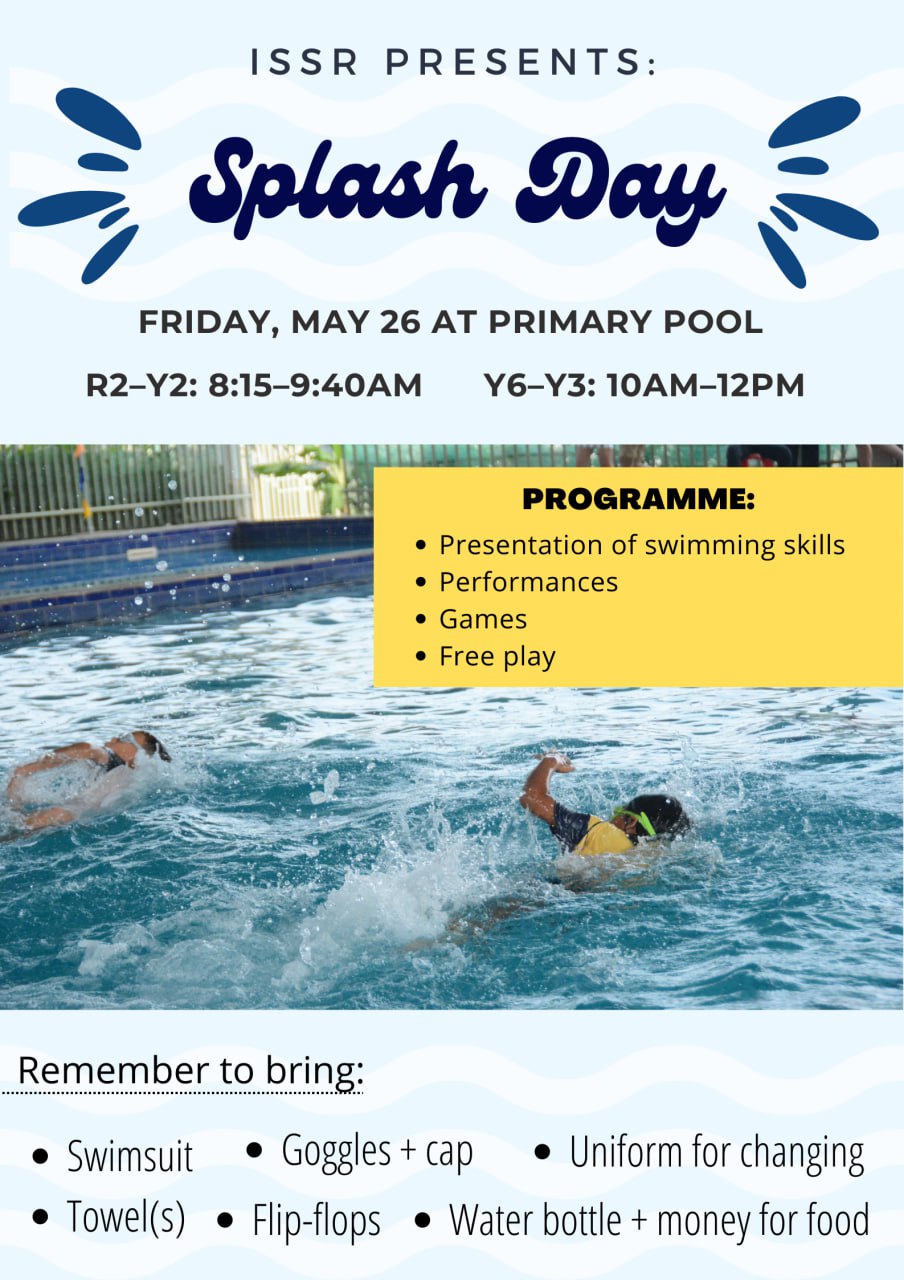 Primary Sports day
We are holding our annual Sports Day on 17th February. This will be held at the primary school campus. The students are encouraged to dress in their House Colours as they will be competing for the House they belong to. On the day your child is competing, they must remember their water bottle, sun cream and a hat to protect them from the sun.
Parents are encouraged to attend and show support for their children.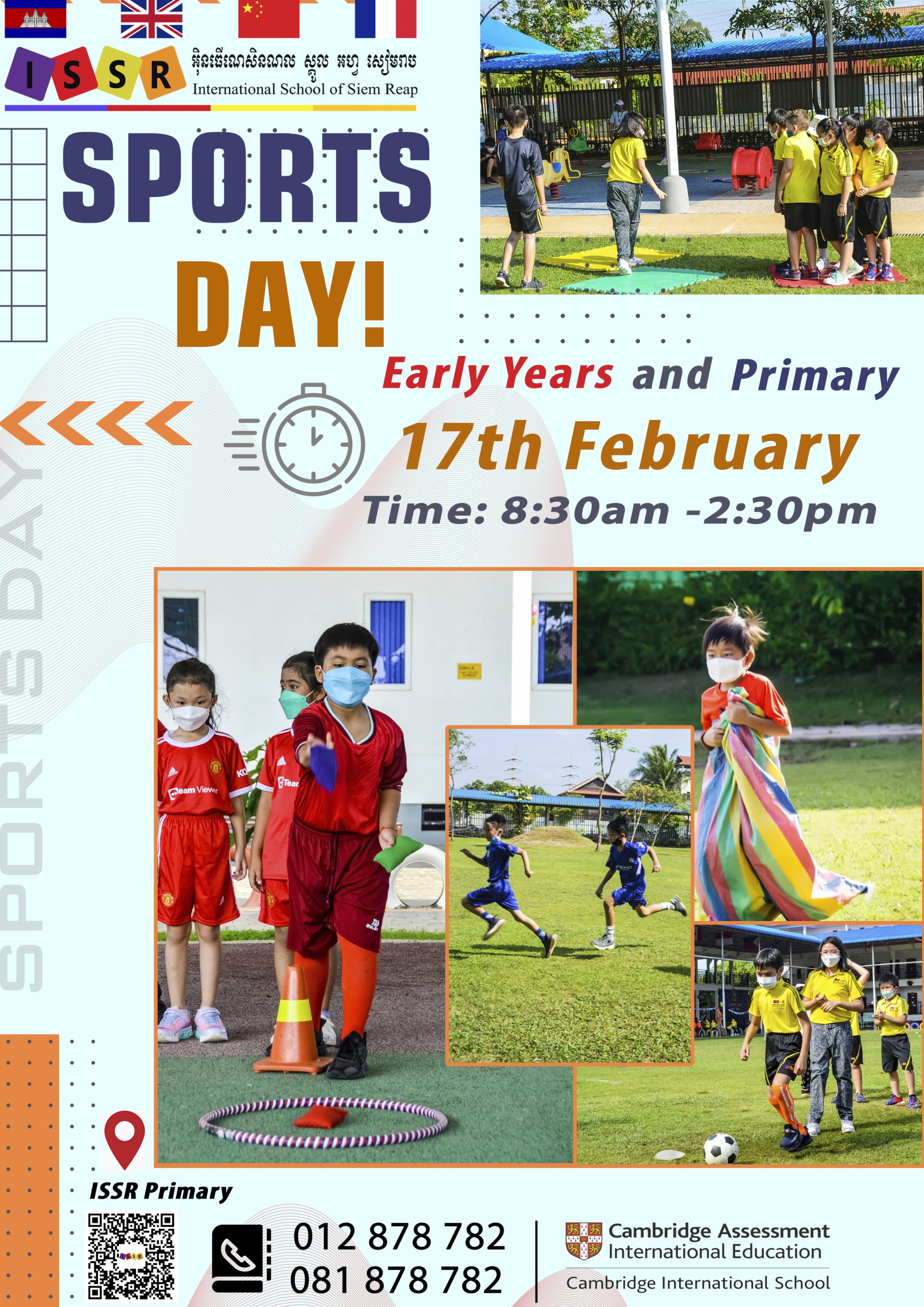 Welcome back to school
See you on January 09th!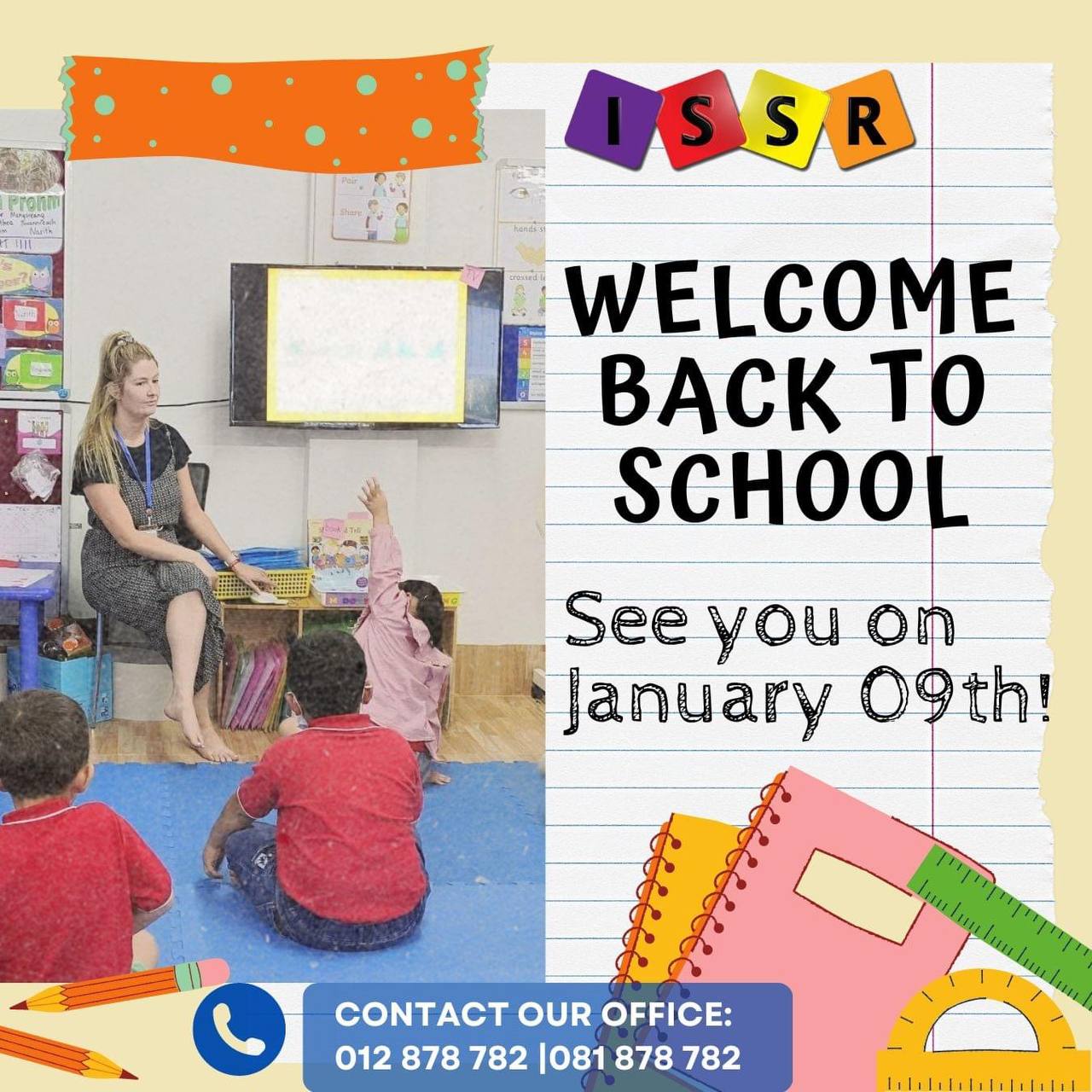 Dear Parents/Carers,
Our annual Parent-Teacher meetings will be held on Monday 5th to Wednesday 7th December 2022, from 3pm till 5pm. Please contact the front office to arrange a time to meet your child's teacher and discuss their progress.
Each meeting will only take 10 minutes.
Please ensure you arrive on time for your meeting, and keep to the timetabled slots.
Many thanks,
David Key
Primary school principal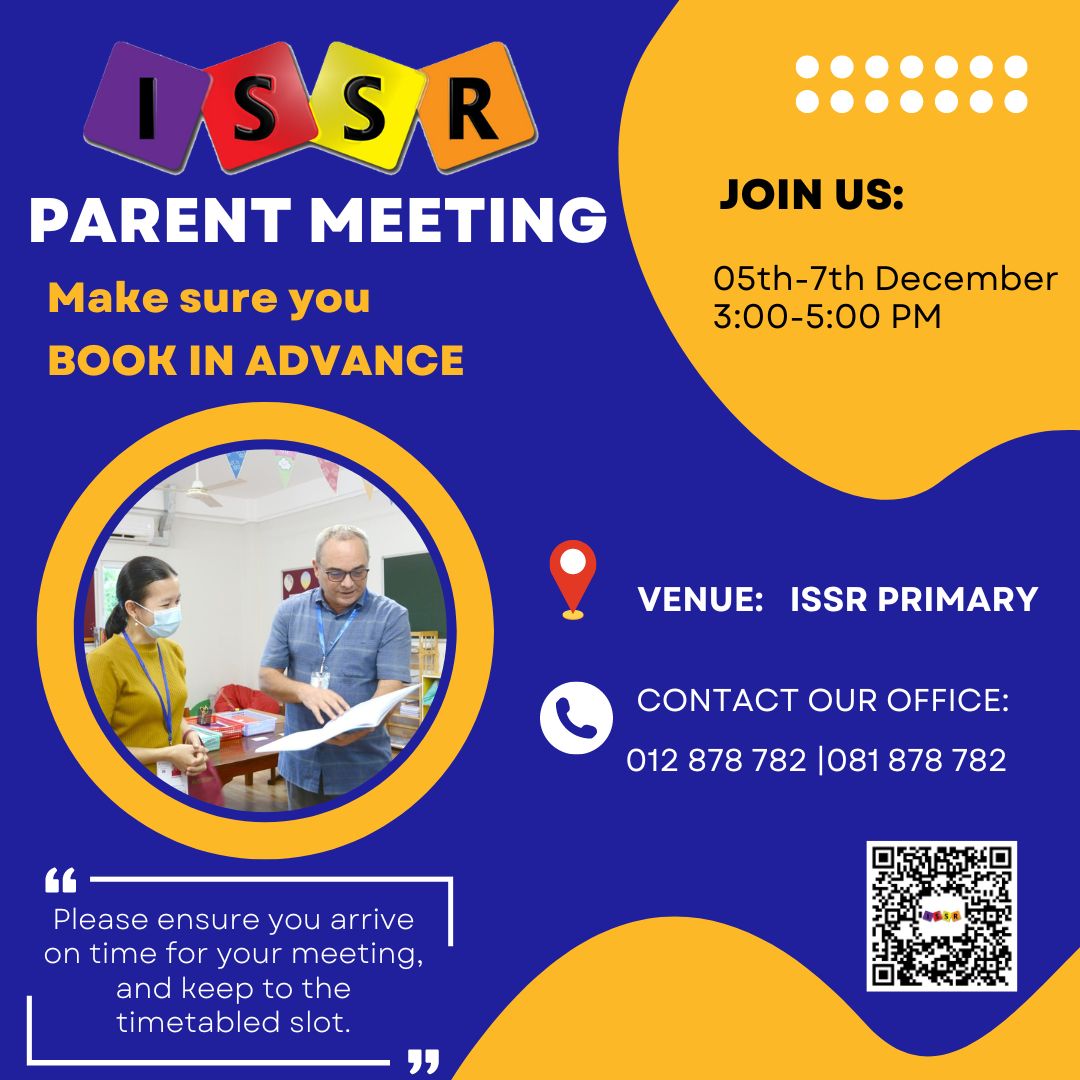 Dear Parents/Guardians,
The school will be closed for 3 days on 7th, 8th and 9th of November 2022, for the Cambodia Water Festival. School will resume on Thursday 10th November, 2022.
Happy Water Festival 2022! Hope you all have a good holiday!

Kind Regards,
School Management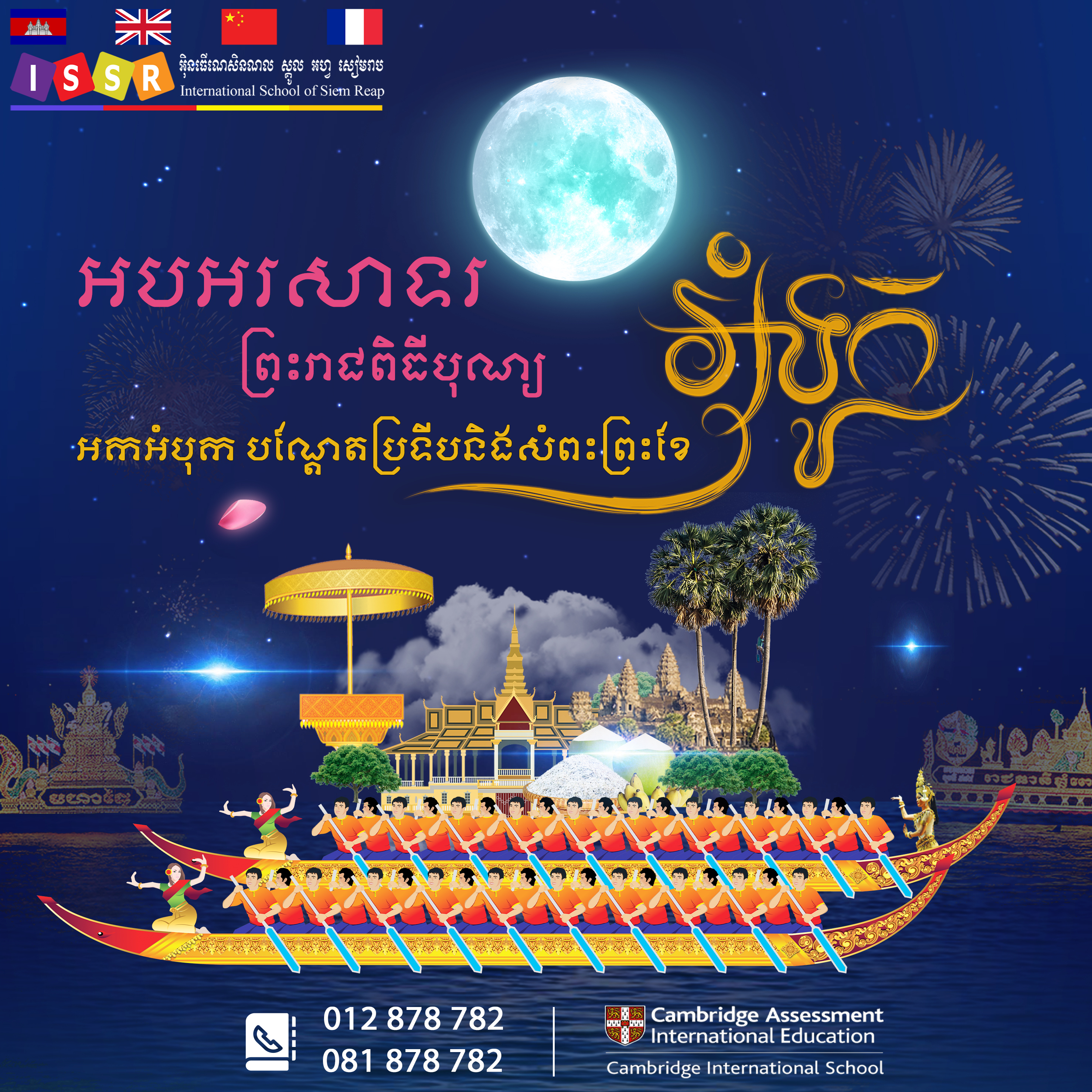 Halloween parade today at ISSR Primary. Nursery to Year 6 all participants had a wonderful time.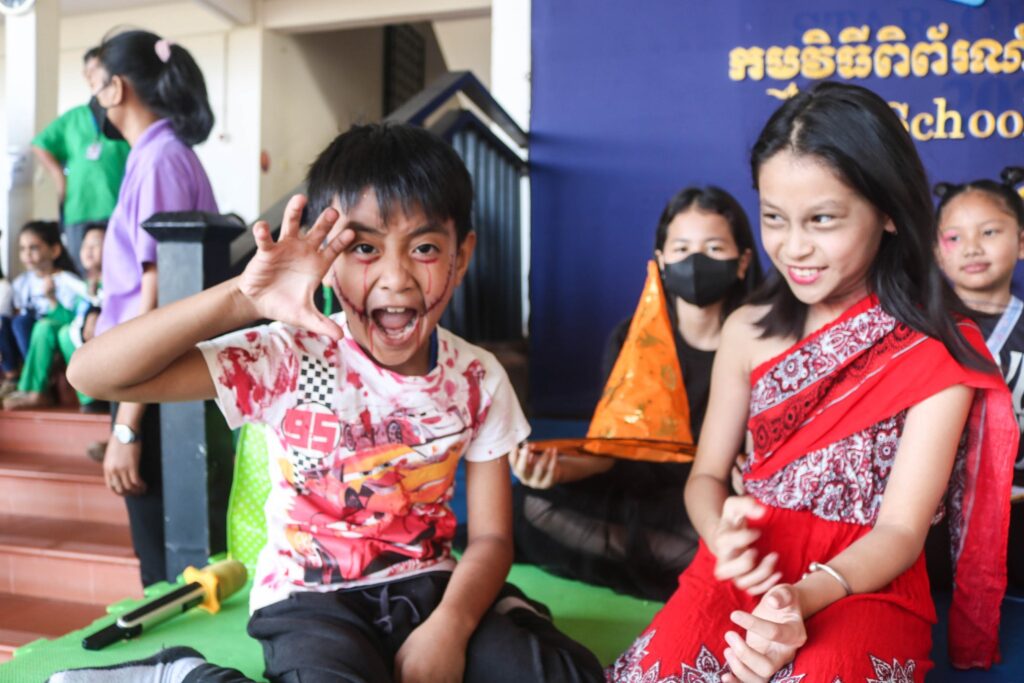 ISSR Primary – staying safe.
We held our first fire drill practice this week. Everyone co-operated calmly and followed the procedures for a safe evacuation to the designated assembly point.
Well done everyone!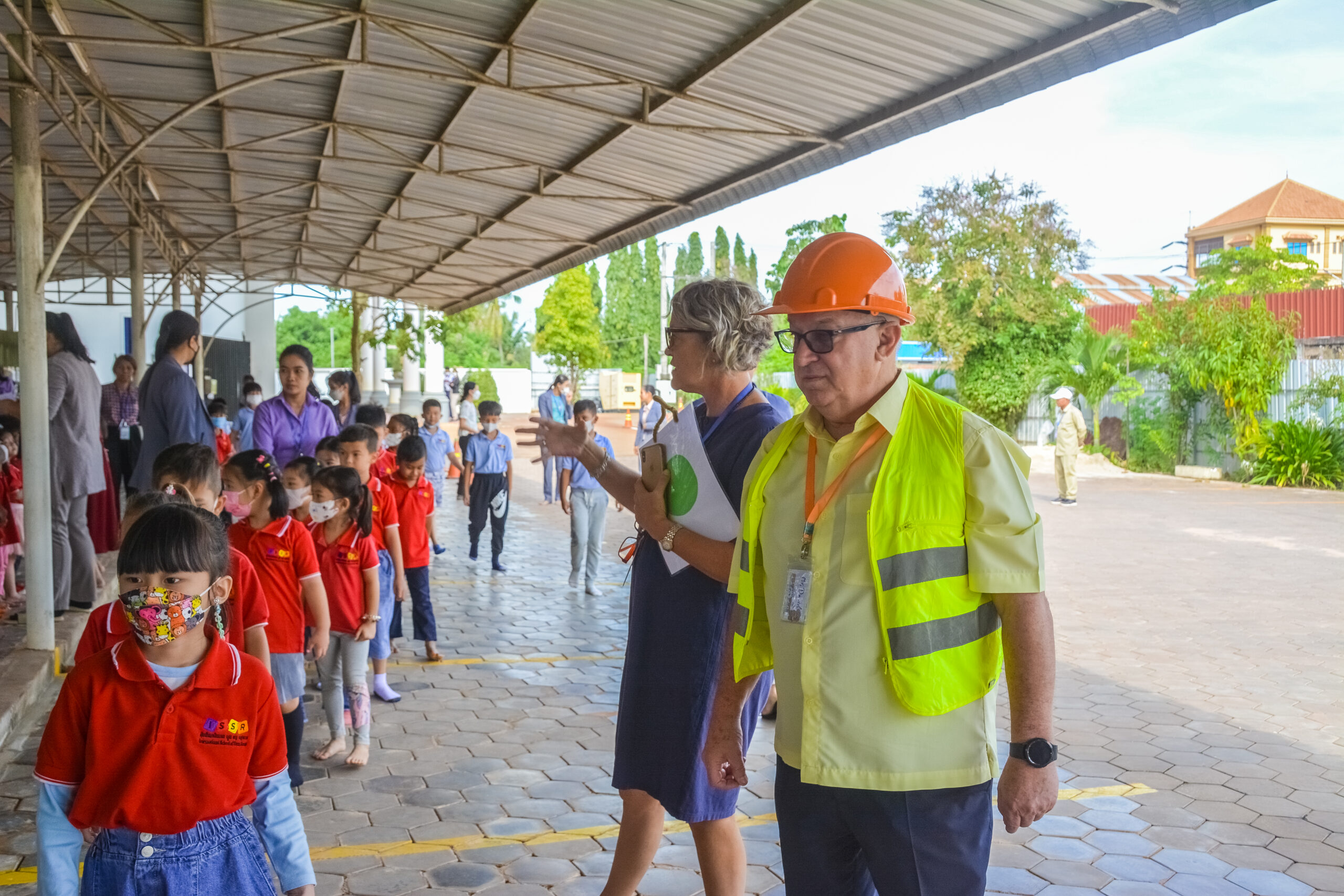 ISSR School Fair Saturday 29th October 9:00am – 1:00pm.
Everyone is welcome to come along and enjoy this event with us.

All money raised goes to Angkor Hospital for Children and Kantha Bopha.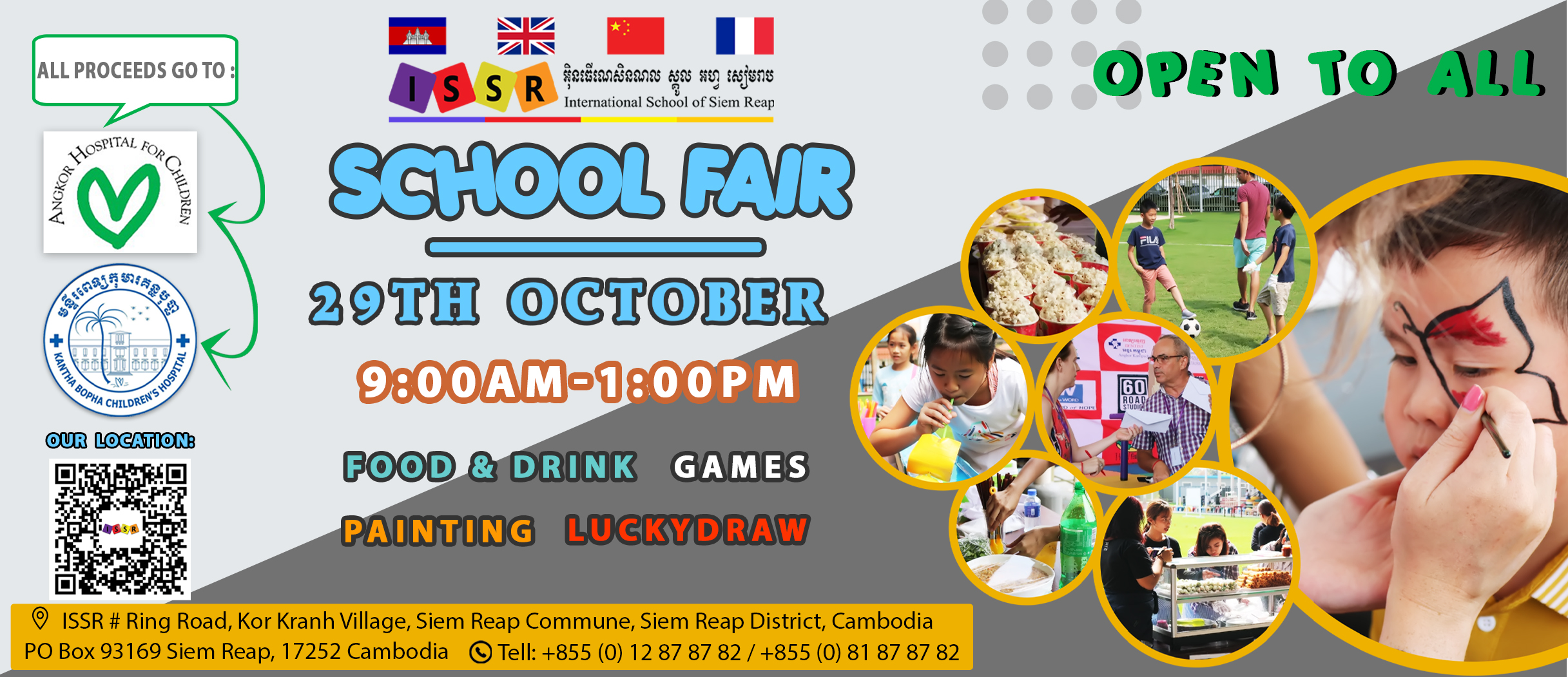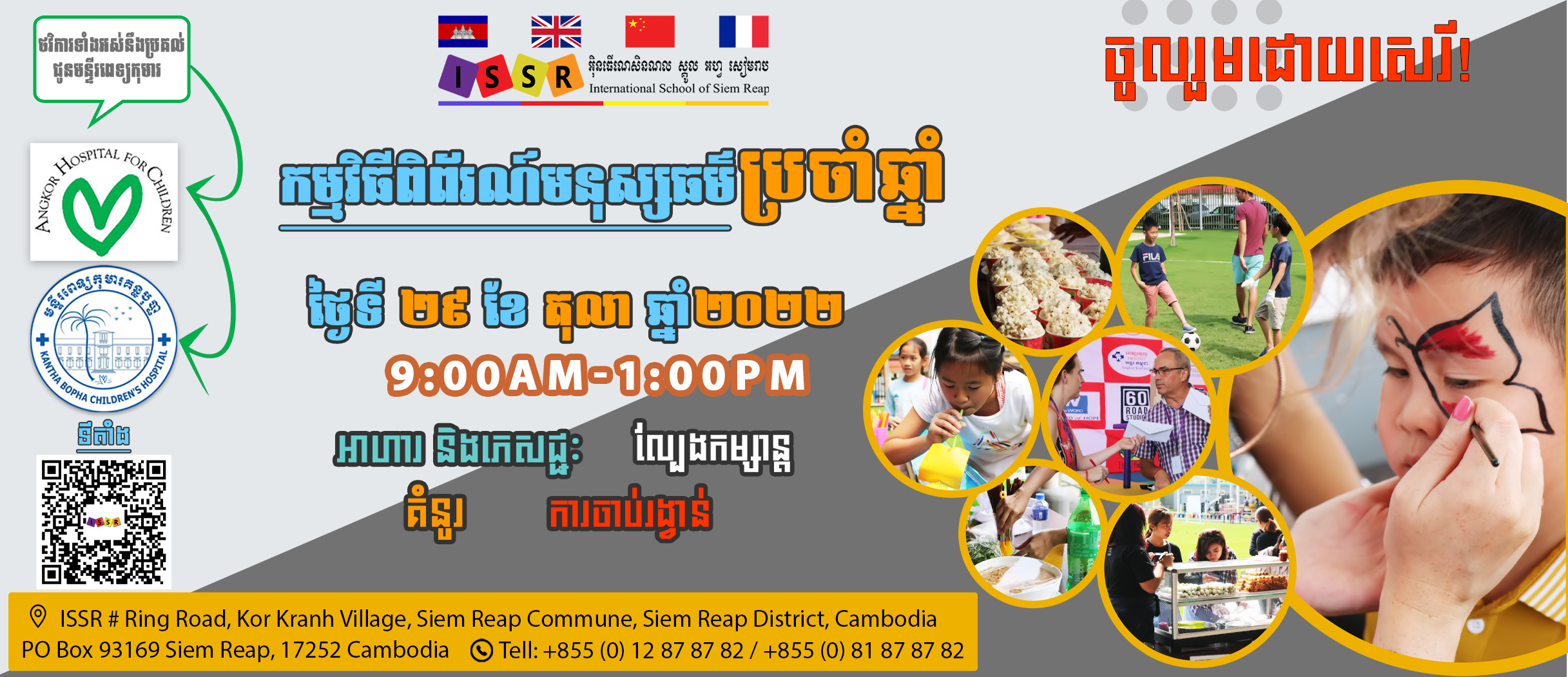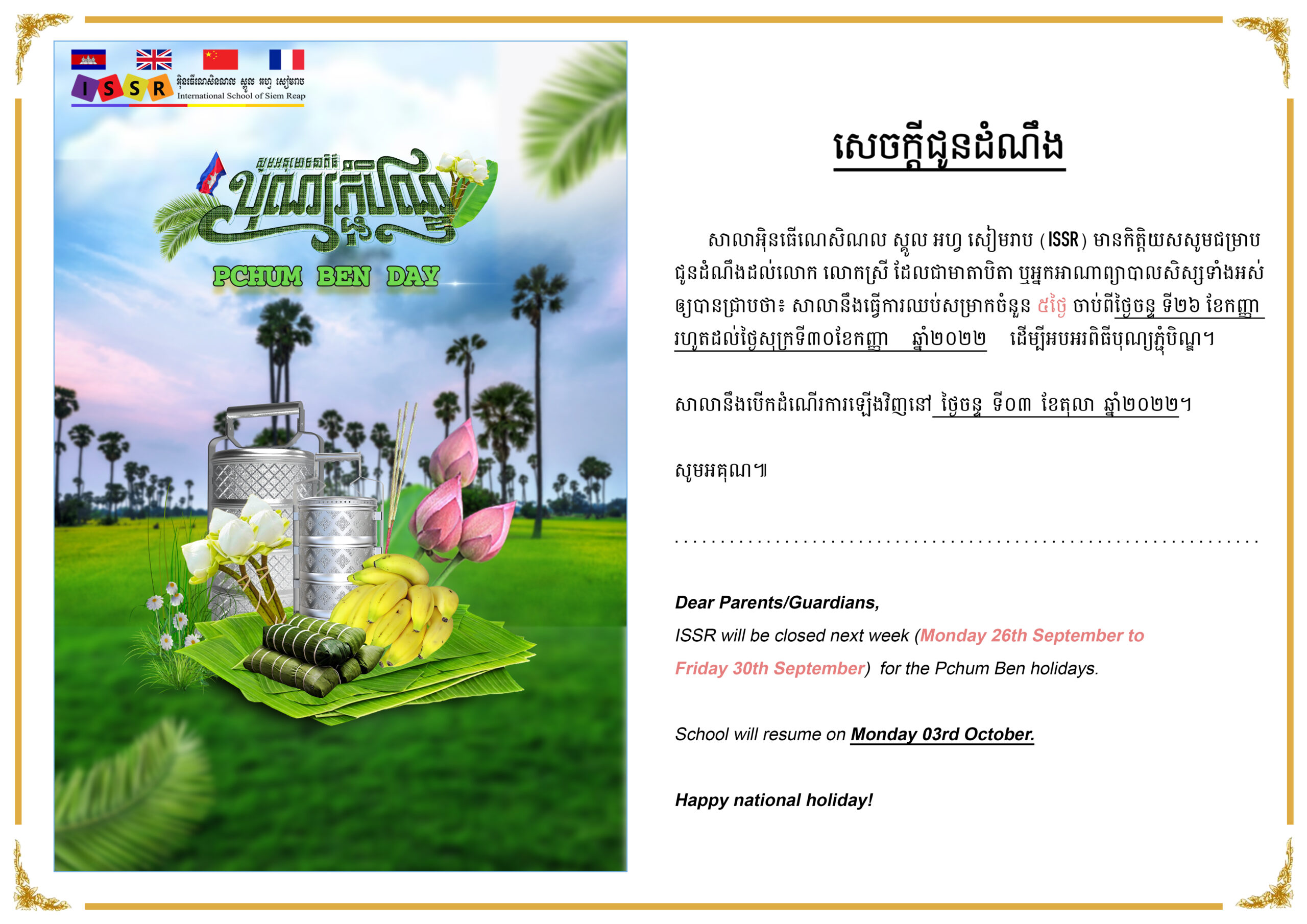 Dear Parents/Carers,
We hope you had an enjoyable and relaxing holiday with your family.
We are looking forward to welcoming the students back to school for the academic year on Monday 15th August 2022.
Many thanks for your continued understanding and cooperation.
Best Wishes,
ISSR Management Teams
Reading for Pleasure is at the heart of Year 5 Literacy Skills. The right book into the hands of a keen reader at the right time makes reading very powerful. Students can easily access to information for accelerated learning, and fun opportunities in a safe environment during I.C.T.
ភាពរីករាយបានពីអំណានគឺគន្លឹះដ៏សំខាន់ក្នុងសិក្សាមុខវិជ្ជាអក្សរសាស្ត្ររបស់សិស្សថ្នាក់ទី៥ ។ ការជ្រើសរើសសៀវភៅអានបានត្រឹមត្រូវ និងសមស្របតាមពេលវេលាធ្វើឱ្យការអានពោរពេញទៅដោយថាមពល។ ហើយក្រៅពីការអាននេះ សិស្សក៏ទទួលបានចំណេះដឹង ព័ត៌មាន និងការកំសាន្តផ្សេងទៀតតាមរយៈការរៀន I.C.Tដើម្បីជួយជម្រុញសំទុះនៃការសិក្សារបស់ពួកគេប្រកបដោយបរិយាកាសសុវត្ថិភាព។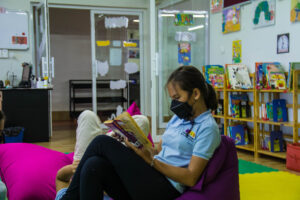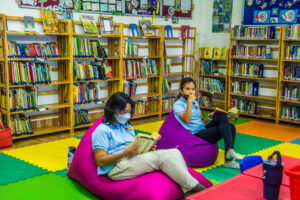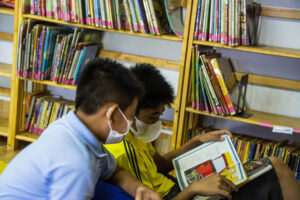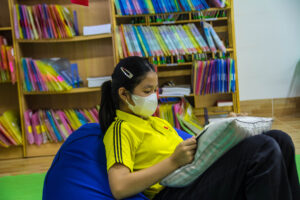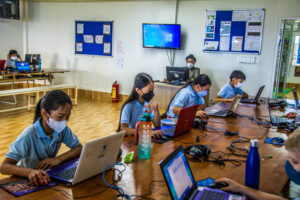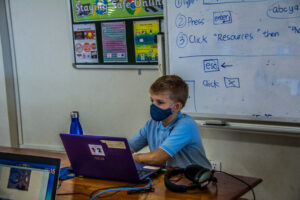 ISSR Summer Programme!
From 4th July till 29th July 2022
8am-12pm Monday to Friday
Register now with ISSR admin
5% discount until end of May
For information regarding School admissions, please contact our office:
Tel: (0)12 87 87 82 (0)81 87 87 82
Our location: https://g.page/ISSR-Primary?share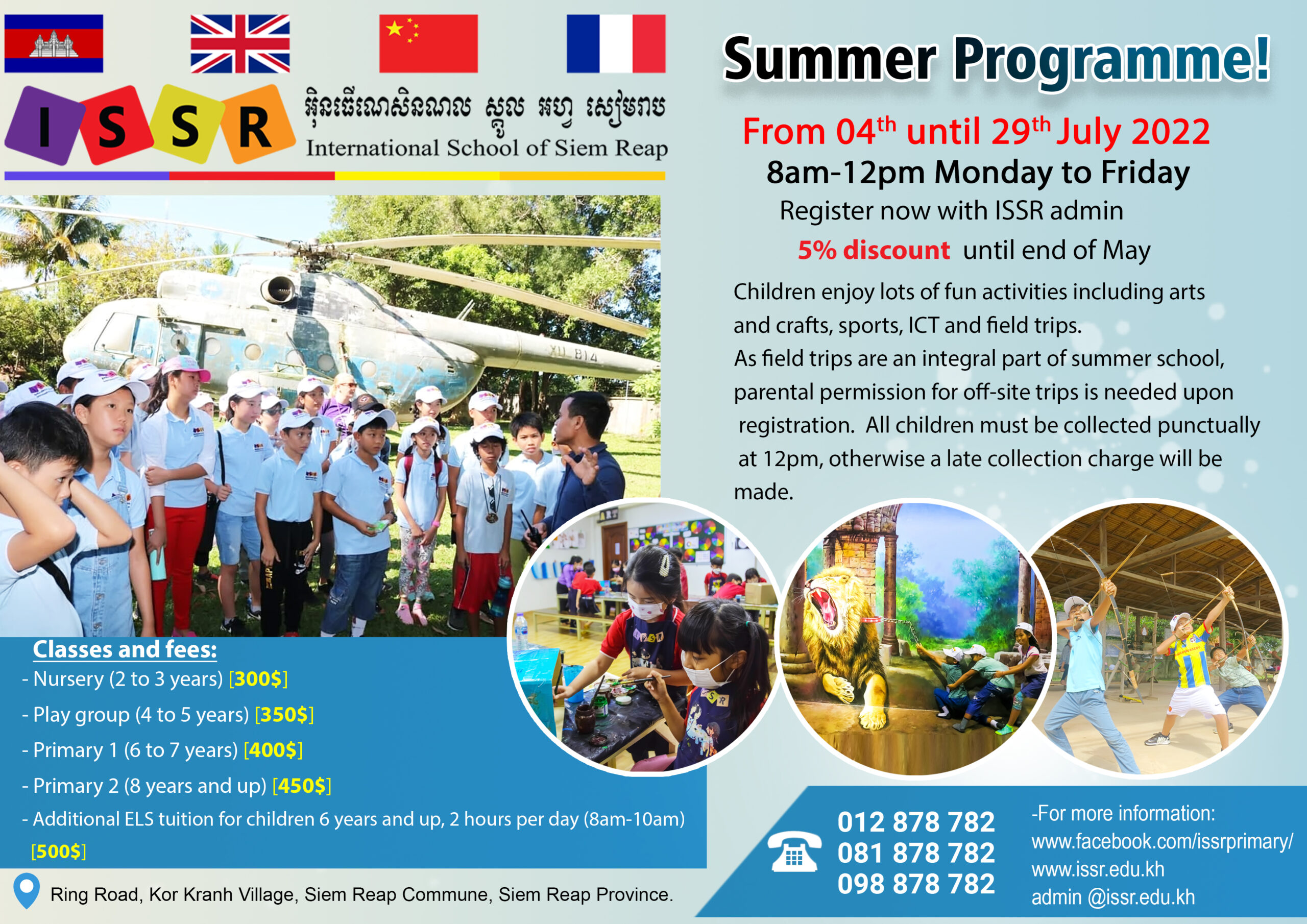 Both primary and high school campuses will be holding their annual Sports Day events soon!
Year 1 to 6 will compete at the primary site on Friday 12th February, and the Early Years competition will take place on Thursday 18th February.

High School students will take part on Friday 19th February.
This great event encourages social skills, physical and mental development and academic improvement in all students. In accordance with current Covid-19 guidelines this will be an internal event just for students, but photographs of the day will be shared on our website.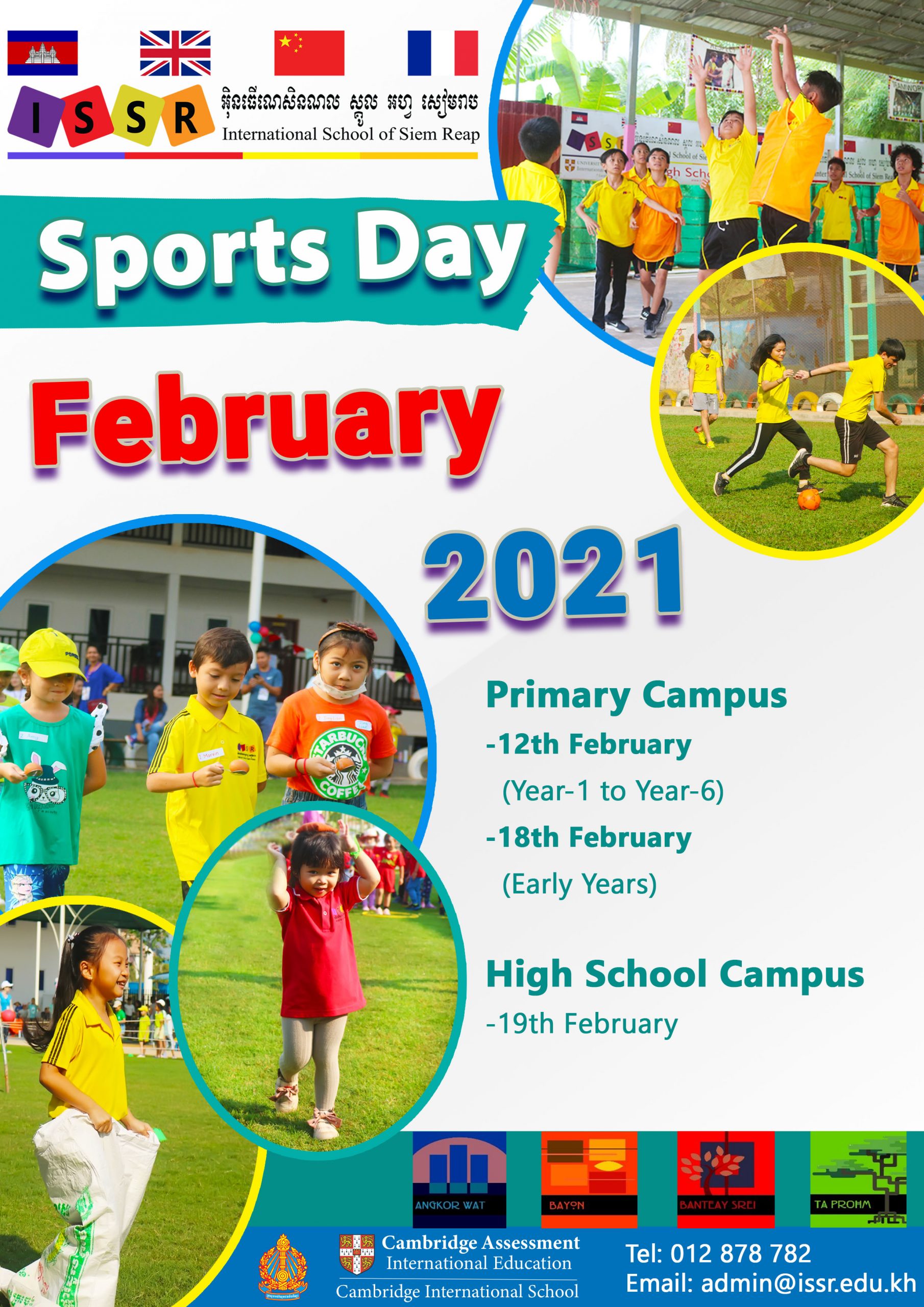 រីករាយស្វាគមន៍នូវ ដំណើរទស្សនកិច្ចរបស់ ឯកឧត្តមបណ្ឌិតសភាចារ្យ ហង់ជួន ណារ៉ុន រដ្ឋមន្រ្តីក្រសួងអប់រំ យុវជន និងកីឡា នៅសាលា អ៊ិនធើណេសិនណល ស្គូល អហ្វ សៀមរាប (ISSR) 
ថ្ងៃអង្គារ ទី១៣ ខែតុលា ឆ្នាំ២០២០ នាវេលាម៉ោង១រសៀល នៅសាលា អ៊ិនធើណេសិនណល ស្គូល អហ្វ សៀមរាប (ISSR) បានទទួលបដិសណ្ឋារកិច្ចស្វាគមន៍ឯកឧត្តមបណ្ឌិតសភាចារ្យ ហង់ជួន ណារ៉ុន រដ្ឋមន្រ្តីក្រសួងអប់រំ យុវជន និងកីឡា ឯកឧត្តមប្រធាននាយកដ្ឋានជំនាញនៃក្រសួងអប់រំ យុវជន និងកីឡា ព្រមទាំងលោកប្រធានមន្ទីរ និងលោកប្រធានការិយាល័យជំនាញ នៃមន្ទីរអប់រំ យុវជន និងកីឡាខេត្តសៀមរាប ដែលបានអញ្ជើញមកពិនិត្យវាយតម្លៃពីដំណើរការបើកឡើងវិញគ្រឹះស្ថានសិក្សាដំណាក់កាលទី២ របស់សាលា អ៊ិនធើណេសិនណល ស្គូល អហ្វ សៀមរាប  ដែលបានកំពុងអនុវត្តក្រោយពីបានទទួលលិខិត​អនុញ្ញាត​ឱ្យ​បើក​ដំណើរការសាលារៀនឡើងវិញ។  ជាលទ្ធផលនៃដំណើរទស្សនកិច្ចនេះឯកឧត្តមបណ្ឌិត​សភាចារ្យ បាន កោតសសើរគណៈគ្រប់គ្រង បុគ្គលិក លោកគ្រូ អ្នកគ្រូ និងសិស្សានុសិស្សដែលបានខិតខំប្រឹងប្រែងអនុវត្តតាម​គោលការណ៍​ប្រតិបត្តិ​ស្តង់ដា​(SOP) របស់ក្រសួងអប់រំ យុវជន និងកីឡា ដើម្បីបង្ការការរីករាលដាលនៃជំងឺកូវីដ-១៩ និងថ្លែងអំណរគុណចំពោះការយកចិត្តទុកដាក់ប្រឹងប្រែងផ្តល់ការអប់រំប្រកបដោយគុណភាពកម្រិតអន្តរជាតិ ដល់សិស្សានុសិស្សនៅទីរួមខេត្តសៀមរាបយើងនេះផងដែរ ។
យើងខ្ញុំជាគណៈគ្រប់គ្រង លោកគ្រូ អ្នកគ្រូនៃសាលាអ៊ិនធើណេសិនណល ស្គូល អហ្វ សៀមរាប (ISSR) សូមថ្លែងអំណរអរគុណយ៉ាងជ្រាលជ្រៅជាទីបំផុតចំពោះឯកឧត្តមបណ្ឌិត​សភាចារ្យ ហង់ជួន ណារ៉ុន រដ្ឋមន្ត្រីក្រសួងអប់រំ យុវជន និងកីឡា ដែលបានផ្តល់នូវមហាកិត្តិយសអញ្ជើញមក​ទស្សនកិច្ចវាយតម្លៃ នៅសាលា អ៊ិនធើណេសិនណល ស្គូល អហ្វ សៀមរាប ដែលជាសាលាមានស្តង់ដាកម្មវិធីសិក្សាកម្រិតអន្តរជាតិ នៅក្នុងខេត្តសៀមរាបយើងខ្ញុំនេះ ។
យើងខ្ញុំសូមបួងសួងឱ្យ ឯកឧត្តមបណ្ឌិត​សភាចារ្យ និងប្រតិភូអមដំណើរ មានសុខភាពល្អ កម្លាំងរឹងមាំទទួលបានជោគជ័យគ្រប់ភារកិច្ចការងារ។  សូមអរគុណ !
……………………………………………………………………………………………………………………………………………………………………………………………………
ISSR was absolutely delighted and honoured to welcome His Excellency Hang Chuon Naron (Minister of Education, Youth and Sport), and his aides, to our primary school campus today (13th October 2020). Chaperoned by our directors, principles of the school, and heads of administration, His Excellency Hang Chuon Naron toured the grounds and classrooms of our school. We would like to thank His Excellency Hang Chuon Naron for taking the time to visit ISSR, and for allowing us the opportunity to showcase our school.