LEARNING
At ISSR we follow the British National Curriculum which offers a child centred, challenging and well-balanced curriculum for our pupils. The programme caters for the individual needs of all pupils allowing stimulation of the child's interests and learning capabilities so they can realise their full potential. In addition we offer tuition of a modern foreign language.
This is all provided in a secure and safe environment in which we care first and foremost about our children and their educational progress. Our professionally designed programme of study with its built-in regular assessment steps using the British National Curriculum prepares children with the academic and social skills to become successful young adults. It also enables them to move on without difficulty should the parents' employment take them to another part of Cambodia or to another country.
THE CURRICULUM
So that our teaching and learning is well suited to our children, each stage is slightly different. Each stage is outlined below. (For further information about the British National curriculum please see https://www.gov.uk/government/publications/national-curriculum-in-england-primary-curriculum)
FOUNDATION STAGE
Nursery – average age range 2 ½-3 years old

Reception 1 – average age range 3-4 years old

Reception 2 – average age range 4-5 years old
In line with the English Foundation Stage Curriculum cross-curricular topic lessons form the basis of the learning for children in these classes. These topics cover the key elements as laid out by Foundation Stage Curriculum:
Communication and Language

Physical Development

Personal, Social and Emotional Development

Literacy

Mathematics

Understanding of the world

Expressive Arts and Design
These topics are organised by themes relating to the subjects which will be taught separately later on in Key Stages 1 & 2. The themes are designed to encourage interest and develop the child's natural curiosity in order to build the foundation for
based learning needed for their further development.  Particular attention is given at all times and in all activities to the creative, personal, social and emotional development of the young children in our care.
KEY STAGE 1
Year 1 – average age range 5-6 years old

Year 2 – average age range 6-7 years old
KEY STAGE 2
Year 3 – average age range 7-8 years old

Year 4 – average age range 8-9 years old

Year 5 – average age range 9-10 years old

Year 6 – average age range 10-11 years old
In line with the British National Curriculum, and in addition to it, ISSR cover these subjects in Key Stages 1 & 2:
Literacy

Maths

Phonics

History

Geography

Science

Art

Design & Technology

Music

ICT

Physical Education including swimming

PSHCE
Literacy and Maths are taught daily to ensure children's reading, writing and comprehension as well as numeracy becomes thoroughly developed. In Key Stage 1 this includes comprehensive coverage of phonics ensuring that children have a solid basis for furthering their understanding and use of the English language. Our library and Oxford Reading Tree scheme help children to develop a love of reading which in turn allows them to become more expressive writers.
Furthermore, our dedicated ICT Lab allows us to teach a variety of computing skills. The understanding of which has become increasingly important to support children's communication, learning and personal safety skills. Children receive regular separate ICT lessons as well as cross curricular sessions through things like blogging, creating presentations and making animations.
A key part of our children's learning is the teaching of Topics that are structured in a cross-curricular programme. Topics are a fun and engaging way for children to take an interest in a variety of important subjects. They open their eyes to the world we live in and discuss subjects that have an impact on everyday life. These lessons often lean towards the creative arts but cover all subjects and help our children become global citizens.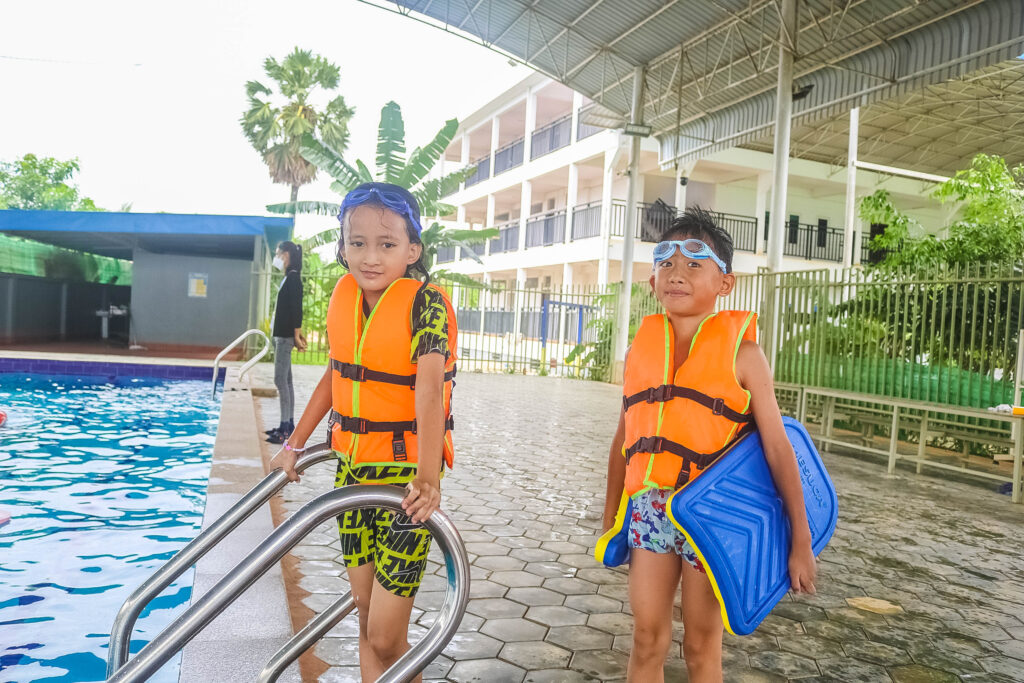 In keeping with the British National curriculum children have regular PE lessons covering a wide variety of skills and sports. Swimming lessons are also provided in our purpose built swimming pool to ensure children are firstly safe and comfortable around water but also to give them the opportunity to become highly competent swimmers. In addition to this our extra-curricular program allows children access to develop new interests or become proficient in sports they already enjoy.
Finally, assessments of your child's progress and performance are made regularly by the teachers in all Key Stages. Formal assessments occur regularly for English and Maths, whilst on-going teacher assessments cover the other subjects.