ISSR was established in 2007 in central Siem Reap and is situated on 2 separate campuses. One, a purpose built three story, 14 classroom school building that houses the High School. The other, a spacious three story 32 classroom building that houses the Primary School, Administration, Music and Language classes, as well as our English/Khmer dual curriculum school. We are situated a short distance from the Old Market (Phas Cha) and the river. All classrooms are equipped with air conditioners, fans, a computer, TVs or projectors and all the resources needed for an international standard of education. The school has up-to-date IT facilities for staff as well as a 20 station computer lab for students in the Primary School and a second 20-PC computer lab in the High School. Each school campus has a separate library which is regularly topped up with new fiction and non-fiction books. The school also has an eBook server and database of approximately 35,000 ebooks.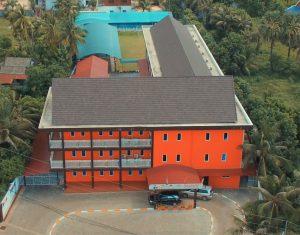 A quality educational programme based on the British National Curriculum is provided to our pupils from Nursery through to High School Graduation. In 2013 we gained accreditation by the Cambridge University International Examinations board and due to this we can offer a full IGCSE education programme and exams. In 2015, we became the first and only school in Siem Reap to teach 'A-Levels', which means ISSR is the only school in Siem Reap able to provide a British Curriculum course of study from Nursery right through to international university entrance standard.
At ISSR, we feel it is important to also respect the national Cambodian Educational System so in 2011 we opened our Khmer School for those students and parents who wish to take Khmer school exams and move through the local educational structure, whilst still retaining the benefits and options that a truly international English based curriculum can provide.
As our school has grown we have tailored our school grounds to continue to provide a safe and stimulating environment for children and students. Both schools have football sized grass pitches and a set of playground equipment. In addition, the Primary School also has a basketball court, sand-pit, swings, and a 25 metre sun-protected swimming pool. Sun-protected play areas are provided for the younger children to play in and for the older children to relax out of the heat of the sun. We also provide a filtered water-mist cooling system in the lunch area.
Language training for students in ELS (English Language Support), French, Chinese and Khmer is provided during school hours. We also have many extra-curricular activities for students such as Football, Yoga, Computer and Art Clubs, Drama, Choir, and Sports. We have qualified instructors for many individual musical instruments and provide individual instruction after school.
ISSR's teachers come from Europe, Australia and North America and are all completely fluent or native in English and are fully qualified by the teaching authority in their own country. In the younger years, we also provide expatriate English speaking Teaching Assistants to promote language acquisition among students and appropriate standards of support for the teachers.